ADD: No.3 Building ,Jixiang E-commerce Industrial Park, Cangshan District, Fuzhou, China
Ca2F window in customized shape
I want to make an inquiry
Changhui-EO accept all OEM orders, send us the drawing, sample or idea are ok.
Ca2F window in customized shape
The Plano Convex Lenses are made from CaF2 material. It presents a curved interface and a planar interface. They are for instance the microlenses situated on top of a wafer, but can also encountered in macroscopic optical systems. Their asymmetrical nature influences their properties of bending the light. Depending on their role in an optical system, their orientation has to be taken into account.
Specifications:
| | |
| --- | --- |
| Material: | CaF2 |
| Design Wavelength: | 1500nm, n=1.425 |
| Diameter Tolerance: | +0.0/-0.1mm |
| Paraxial Focal Length: | ±2% |
| Centration: | 3 arc minutes |
| Surface Figure : | λ/4 @ 632.8 nm |
| Surface Quality: | 80/50 |
| Clear Aperture: | >80% |
| Bevel: | <0.25mm X 45° |
| Coating: | Uncoated |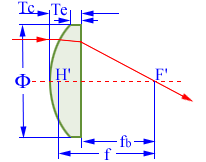 Corresponding parameter set not found, please add it in property template of background
暂未实现,敬请期待
High Transmittance CaF2 ZnseOptical Window