ADD: No.3 Building ,Jixiang E-commerce Industrial Park, Cangshan District, Fuzhou, China
Sapphire Window Sapphire lens
I want to make an inquiry
We can do super polishing(1/10λ after coating).Thick and complicate filter coating, mini optics, and also we have stock optics.
Those advance ranked us into top good optics partner
Kindly contact us for a inquiry.
Sapphire Window Sapphire lens
The Window is made from sapphire material, which has transparent range from 180-4500nm. The refractive index is 1.755 at 1000nm. It has strong hardness. The Sapphire window is suit for scratch resistance application with better transmission over the wide range spectrum. It can be made much thinner.
Specifications:
| | |
| --- | --- |
| Material: | Sapphire |
| Diameter Tolerance: | +0.0, -0.1mm |
| Thickness Tolerance: | ± 0.2mm |
| Clear Aperture: | >80% |
| Parallelism: | 1' |
| Surface Quality: | 80/50 |
| Wavefront Distortion: | λ per 25mm |
| Bevel: | <0.25mm X 45° |
| Coating: | Uncoated |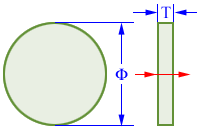 Corresponding parameter set not found, please add it in property template of background
暂未实现,敬请期待
Dichronic filter,IR filter